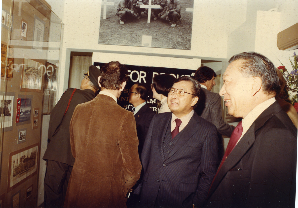 Photographs of the opening of the Go For Broke exhibit at the Presidio Army Museum, March 6, 1981.
See Articles Below
"GO FOR BROKE"
First Pictorial History of Japanese American 442nd Regimental Combat Team Most Decorated Unit in United States Military Annals


This was written by John Motheral, editor of the Fort Point Salvo, the newsletter of the Fort Point and Army Museum Association. Volume 5, number 3, June, 1981.


March 7, 1981 was a day of fulfillment for the Japanese Niseis of World War II whose 442nd Regimental Combat Team (RCT) rose up out of the fear, the distrust, the bitter enmity engendered by Pearl Harbor and proved there were no better Americans ever than they.


More than 2,000, the largest reunion of Japanese American veterans ever held on the mainland, came to our Presidio Army Museum to open the first and only pictorial history presentation of the 442nd whose motto, "Go for Broke" meant "Give everything you've got!"

In less than two years in combat men of the 442nd and the 100th Infantry Battalion, which served as its 1st Battalion, won 18,143 individual decorations including:

One Congressional Medal of Honor, 52 Distinguished Service Crosses, 1 Distinguished Service Medal, 560 Silver Stars with 28 Oak Leaf Clusters in lieu of second Silver Stars, 22 Legion of Merit Medals, approximately 4,000 Bronze Stars, over 9,000 Purple Heart Medals, 15 Soldier's Medals, 12 French Croix de Guerre with 2 Palms representing second awards, 2 Italian Crosses for Military Merit and 2 Italian Medals for Military Valor.

The 100/422nd suffered 9,486 casualties, more than twice their full complement of officers and men. They had to be remanned nearly 3 times. These two units were dubbed "the little iron men" and so they were. Their average height was 5-ft-4, and their average weight less than 125 pounds.

7 Major Campaigns in less than 2 Years


From the beaches of Salerno and Anzio, the 1001442nd fought all the long way up the boot of Italy. Then in the shell-scarred fanatically defended Vosges Mountains of Eastern France they rescued the "Lost Battalion" of the 141st Infantry (described in this issue) at the cost of a river of blood. They held the German 34th Division in check along the gaunt treeless Alps Maritime in Southern France. Finally, they blasted the first opening in the "Gothic Line", Hitler's last "impregnable" defense across Italy. They received a Presidential Unit Citation for each of these campaigns. In the words of General George C. Marshall, "They were superb!"


And so, the veterans who came home, their families and members of the Japanese-American community from as far away as New England, Alaska, Hawaii, gathered at the Presidio of San Francisco. They were justly proud that the Presidio Army Museum was telling their story as they had lived it.

Our United States Senators from Hawaii, Daniel K. Inouye and Spark M. Matsunaga, both 100/442nd veterans, received the 17-gun salute due their high office. They inspected the Honor Guard, trooped the line and escorted San Francisco Mayor Dianne Feinstein.

"God Bless America"


Mike N. Masaoka, Master of Ceremonies, and one of the first men to volunteer for the 442nd in 1943, introduced 18 members of the Japanese American Senior Citizens' Club of Watsonville, California. All were between 74 and 92. Nine of them were parents of 442nd veterans, some were Gold Star parents. They sang a soft and moving "God Bless America". As it died away ...


The First Full Story of the 100/442nd Unfolded


When Japan attacked Pearl Harbor December 7, 1941, Japanese Americans were thunderstruck. They considered themselves wholly American. They had raised their American-born children to love their country and give it their unquestioning loyalty. They wanted to stop Japan in her tracks. but suddenly they found themselves cast out, distrusted, looked at as probable enemies in disguise.


Hardest Blow Fell February 19, 1942


By Executive Order from Washington, D.C. all Japanese-Americans on the Pacific Coast were to be sent to relocation camps in remote areas of the west for the duration. Each person could take with him only the effects he could cram into a single suitcase. All Japanese-owned businesses were to be closed and liquidated. This meant absolute ruin for many, many families who had spent their lifetimes working and saving.


In the relocation camps, barracks were divided into individual apartments for sleeping. Everything else was communal, from showers to kitchens. There was no privacy. And no getting away. The living areas were surrounded with barbed wire and patrolled by Military Police.

More than 110,000 Japanese were interned; 70,000 of them native-born American citizens. In Hawaii, 2,500 miles closer to Japan and with three times the mainland's Japanese population, there were no relocation camps. But Japanese-Americans were distrusted and downgraded in other ways. Speaking of their condition the United States

Supreme Court said: "The Japanese-Americans ... were subjected to misjudgment and mistreatment such as has been visited on no other American minority in our history."

Nisei Had Two Ways to Go


"They could look at the west coast evacuation in two ways," Mike Masaoka recalled at the reunion, "with bitterness or with positive feelings. We chose the positive approach. The approach that America, our country, had made a mistake, but that it was the one country that could and would correct such a mistake."


So, the Niseis kept their heads up, petitioned and pleaded for a chance to fight for their country, buy their full citizenship and their families' citizenship with their blood. In answer to their fervent pleas, the 100th Battalion (Separate) was formed in July 1942 and the 442nd Regimental Combat Team in February 1943.

They broke every record in training. They took so many casualties in combat they earned the title of the "Purple Heart Regiment". They never retreated. Units fought on when 90% of their men were shot away. And won! The 1001442nd knew what they were fighting for. Their President, Harry S. Truman knew, too, when he paid those who came home their highest accolade at the White House: "You fought not only the enemy, you fought prejudice - and you won. Keep up that fight ... continue to win - make this great Republic stand for what the Constitution says it stands for: 'the welfare of all the people all the time.' "

"Go for Broke" Spirit Carries On


"We hope the story of the 'Go for Broke' soldiers will inspire others to the same devotion to their country," Colonel F. Whitney Hall, Jr., Commanding the Presidio of San Francisco, told the reunion guests. Senators Inouye and Matsunaga spoke with great pride of the all-Nisei Regimental Combat Team and agreed, "The fight we joined decades ago will not be over until injustice and oppression are vanquished from our society." Senator Inouye also made a special point of remembering the non-Japanese "Niseis", the white officers who led the 100/442nd. "These officers were all volunteers who risked their careers and endured the jeers of their fellow officers to lead us," he said.


Brigadier General R. S. Young, Chief of Staff of the Sixth United States Army, thanked the Nisei veterans for the privilege of joining them in their reunion and told them:

"In retrospect, we clearly see that many of our past deeds have been colored by emotion, prejudice or unfounded fear. . . "I would like to believe that those actions exhibited the attitude of the times, and were attitudes which we, as a nation, have long since outgrown. And that now we are forever the wiser. But, though we may have a way to go in this direction of human understanding, I am nonetheless very proud of our nation and of our people, because we possess that rare and unique humility and compassion to admit past faults, seek corrections and make amends."

Mayor Dianne Feinstein presented a plaque honoring the 100/442nd and added emphasis to General Young's remarks pointing out the importance of remembering the circumstances surrounding our Japanese-Americans in World War II, adding: "To forget such things is to make it possible for them to happen again."

Then the ribbon was cut and "Go for Broke" our Army Museum's most significant achievement and we believe one of the most significant exhibits in any Army museum, was opened - and mobbed!

In addition to pictures, pictures, and pictures, tracing the combat record of the 1001442nd through some of the toughest fighting in World War II, a beautifully executed diorama brought to life their Battle for Bruyères and another showed how PFC Sadao Munemori earned the Medal of Honor. A slide show and documentary film also helped tell the Niseis' story to the fascinated crowd.

Since its opening, "Go for Broke" has dramatically increased museum attendance - up to 10 times its former rate on weekends. Visitors are literally wearing out our Army Museum's floors! "Go for Broke" will be on display in our Museum for a year. The Japanese-American community is gathering funds and laying plans to take it on tour after that to museums throughout the United States.

A Year of ''8-Day Weeks" Went into GO FOR BROKE


It took literally a year of day and night work on top of their full Museum schedule for Director/ Curator Eric Saul to produce the "Go for Broke" exhibit. At that they wouldn't have made it without the guidance and staunch support of Colonel. F. Whitney Hall, Jr., Commander, Presidio of San Francisco. Our Association lent its financial support.


Interested in digging out some of the untold stories of the United States Army, the museum director Saul had heard that the little known 100/442nd Regimental Combat Team, other than that they were the most decorated unit in U.S. Army history. He had known about the internment of Japanese Americans. He also understood that many young Nisei had volunteered for military service from the internment camps.

Saul also knew that the decision to evacuate Japanese Americans was recommended and implemented by General John DeWitt the commanding general of the 9th Corps Area and his staff which was headquartered at the Presidio.

Saul found out little more about what motivated this Nisei Regiment in researching libraries, the Army, the National Archives, and the Pentagon. The 100/442nd was a small unit of about 4,500 men (eventually more than 18,000 Nisei would serve in the Regiment). In writing the story of the great Armies and Navies most historians of World War II had almost completely overlooked it for its size and length of service, the most valorous fighting force of all!

One afternoon a Colonel Henry C. Oyasato who had been F Company Commander in the 442nd and was serving at the Presidio, came into the Army Museum and asked: "Why don't' you do an exhibit on the 1001442nd Regimental Combat Team?"

"You must be reading our mail," Saul replied, "that's just what we're trying to plan now!"

Colonel Oyasato gave him the name of an 442nd veteran who had kept his uniforms, photographs, press clippings and other memorabilia. He was Major (Ret.) Thomas Kawaguchi of Oakland, Grants Director for the East Bay Municipal Utilities District. He was a combat veteran of F Company.

Tom Kawaguchi and Chet Tanaka


Kawaguchi asked Saul two questions: "Why are you doing this exhibit?" His answer was: "Because it gives us the chance to tell the history of a group of dedicated soldiers whose story has never been told." "But why do you want to tell it?" Saul answered: "Because it needs to be told!" Saul further stated that "a great injustice was done to Japanese Americans on the West Coast, and an exhibit would be a way to address the issue. The exhibit could serve as a healing a prosses for all."


Impressed with Saul's sincerity, Kawaguchi agreed to act as veteran's coordinator of the project. As mutual confidence grew a second man came to the front, Chester Tanaka who was a decorated combat veteran of K Company, who took over the graphics for the whole exhibit and became Assistant Coordinator. He and Kawaguchi led the drive to collect materials for the exibition. Dozens of Nisei veterans generously loaned their precious mementos. More than 2,000 photographs, 40 scrap books and albums, uniforms, battle maps, documents, weapons, decorations, personal mementos, poured in. More than could possibly be used.

Oral History Answers Key Questions


But there were still questions Saul needed to have answered: Why did the men of the 1001442nd offer ' up their lives so willingly? What did it mean to them to be members of America's most decorated unit? The answers couldn't be found in print. So, Saul conducted an "Oral History Program", a series of carefully conducted interviews with the veterans themselves. Out of it came hundreds of pages of transcript and some fascinating answers. In brief, the Niseis truly loved their country. They had been taught by their parents to revere it. They were shocked and frightened by the public's reaction to Pearl Harbor. They were determined to prove their loyalty beyond a shadow of a doubt. In doing so they felt they also would open up to their children and their children's children all the advantages: education, professional, cultural, that their country had to offer. And they did.


What Their Children Never Knew


Day after day Nisei veterans bring their families to the Army Museum and show them on the maps where they fought, explain the action mirrored in the photographs that line the walls, explain how they trained, how they went into battle, how they pushed forward and never turned back. As the stories go on, the young people's eyes often fill. More than one has told Eric Saul on leaving Go for Broke, "I never knew before what my father did for me and why."

THE LUCKIEST MAN: CHESTER TANAKA
K COMPANY, 442ND RCT

This was written by John Motheral, editor of the Fort Point Salvo, the newsletter of the Fort Point and Army Museum Association. Volume 5, number 3, June, 1981.

Editor: The Luckiest man I know is Chester Tanaka, artist, book and magazine designer, who was in charge of graphics for our "Go for Broke" exhibit and acted as Assistant Coordinator of the whole project.


As World War II Tech Sergeant, K Company, 3d Battalion, 442nd Regimental Combat Team (RCT), Chet was in the first 4,500 to go overseas. He was in the front line in all five campaigns the 442nd fought in Italy and France. In less than two years his combat team suffered nearly 300% casualties; it was all but wiped out three times. Yet SGT Tanaka, awarded the Bronze Star for valor under fire, two Purple Hearts, the Combat Infantryman's Badge, and Oak Leaf Clusters, was one of the handful of men who went through it all from the beginning and came home.

Here is his story as told to your editor. Essentially it is the story of the 442nd RCT that really did "Go for Broke".

Ed: Let's take it from the beginning, Chet. Where did you come from? What was your background?

Tanaka: My mother and father were married in San Francisco in 1914. They went to work for a lawyer from St. Louis and his family who were on an extended vacation. When they went home, my parents went with them. After a year or two they went out on their own and later opened the Tokyo Restaurant. They had three sons: Joseph, me in the middle, and Eddie.

When we were growing up there were only four other Japanese families in St Louis. Our friends were mostly Germans and Italians.

All three of us Tanakas served in the Army. Joe made Master Sergeant Regimental Headquarters, 442nd. I was Tech Sergeant, K Company, 3d Battalion. Eddie was in another outfit that ended up in the German Rhineland.

I was just finishing law school at Washington University in St. Louis when…

BOOM! Pearl Harbor – 1941


I was stunned! How could Japan do this? How could they even think of going to war with the United States! I was burned up, too. I was an American and I loved my country. But as I caught the glances of other Americans, suddenly strange, suspicious, some with a flicker of hate in them, I realized I'd have to prove it. And I wanted to! But I couldn't enlist. The rolls were closed to Americans of Japanese descent. I went to my draft board and found I was classified 4C - "Enemy Alien".


How could I be an "alien" when I had never been out of the United States and certainly had never set foot in Japan? "Enemy"? All I wanted to do was fight for my country.

Ed: Did you run into much intolerance and enmity in St. Louis?

Tanaka: Not really. Our German and Italian friends had been pushed around some when the war started. They knew what we were up against and were supportive. But we knew we were on the spot.

The worst of it was I couldn't get a job. What with ammunition and aircraft factories, St. Louis was a sensitive area. So, I wrote to Washington and they said, "sure, come on over". I went and worked for the Office of Price Administration.

I kept in touch with my draft board and found out in the summer of 1943 that the enlistment rolls had been opened so I joined the Army then and there.

I thought I'd be assigned to an integrated unit, but no, I was assigned to the Japanese only 442nd RCT. I didn't like the idea of me, an American, being segregated, but I was in the service and that's what counted. I was soon on my way to Camp Shelby, near Hattiesburg, Mississippi for training.

First Look at Boot Camp Blew My Mind


I had never seen so many Japanese in my life - it was like looking in the mirror and seeing 5,000 of me! But I got used to it in a hurry and I liked the outfit. Here I met the original "Go for Broke" guys, the men from Hawaii. They really started the whole thing.


At the time of Pearl Harbor, there were a lot of Japanese already in the Army in Hawaii. A number of them were in the 298th and 299th National Guard Regiments. They were disarmed and assigned to menial labor.

The Japanese-Hawaiian community urgently requested that a Japanese-American unit of these trained men be formed. On June 15, 194 2, the Army activated the Hawaiian Provisional Battalion and shipped it out to San Francisco the same day. On arrival it was redesignated the 100th Battalion (Separate), and sent to Camp McCoy, Wisconsin for further training.

The Japanese Americans kept the pressure on. Their pleading for a chance to fight for their country didn't quit. That, together with the terrific record the 100th Battalion was setting in training, led the Army to activate the 442nd RCT in February 1943 as a separate unit with almost all officers to be Caucasian. It was made up of the 442nd Infantry Regiment; the 522nd Field Artillery Battalion; and the 232 Combat Engineer Company. Colonel Charles W. Pence, one of the greatest, was in command.

Buddha Heads and Kotonks


"Our 442nd Regiment when I got to Shelby," Tanaka recalls, "had 3,000 men from the Islands and 1,500 from the mainland. We called the Islanders 'Buddha Heads' and they called us 'Kotonks'. They said if they hit us on the chin and we fell over our heads would go 'Ko-tonk' like a coconut hitting the ground. But nobody got hit in the chin; we got along great."


Ed: Was the attitude of the men from the relocation camps different from yours and the Islanders'?

Tanaka: Basically, no. We all knew we faced prejudice - that we had to prove ourselves beyond a doubt. We knew were victims of a Pearl Harbor panic that dreamed up some sort of a 5th column made up of Japanese-Americans.

But the men from the camps had another worry. It was about their families. How their mothers and fathers, most of whom had lost about everything they had, would be treated. How their sisters and kid brothers would get along. There was bitterness, I know, and I think some sounding off, but I heard little of it and when we got into combat, there was none of it. The guys who had left their families behind barbed wire knew what they were fighting for and fought like tigers. They were terrific.

Buddha Heads Set Killing Pace


They brought their Hawaiian crap shooters' expression "Go for Broke" which meant giving everything we had, and made it the 442nd motto. They tore into training like you wouldn't believe and pulled the rest of us right along with them.


When we started forced marches with full packs and field equipment, for example, some of the guys did buckle and weave. We would grab them by the elbows and walk them along in so, by God, everybody would finish and on time.

Umpires hated combat exercises with the 442nd especially when the Buddha Heads were the 'defenders'. They could never be convinced their positions were 'lost'.

They went for broke in the floating crap games around camp, too. And they also liked the girls. I've seen 4-ft-10 and 5-ft-2 guys going for girls head and shoulders taller than they were. They would go dancing around the floor like crazy. Nobody could stop them. And they were good dancers. They went all out in everything.

Among other things they gave us a walkie-talkie code the Germans could never understand. They spoke a pigeon English. When I first heard them, I thought they must be dumb. They were not! They wrote perfect English but they spoke a vernacular made up of English, Hawaiian, Japanese, Portuguese, you name it. To this day I can hardly understand it and the Germans never did. So we always used it over the walkie-talkies in combat.

Ed: What was it like?

Tanaka: I remember one time in Italy the bolt on our Thompson machine gun wasn't catching the shells right. We had to have a new bolt and more ammo. I told the Hawaiian guy on the walkie-talkie and he yelled: 'Hama! Hama! Tommy gun boltsu. Hama! Hama!' Then he threw in some Japanese, a little Hawaiian and something else. All I was sure of was that 'Hama! Hama!' meant 'Hurry like Hell'!

442nd Sends Quartermasters - Up-the Wall


We didn't fit Army regulations. Thirty-three inch sleeves were too long for 30-inch arms. Collars were too big for 13-½ and 14 necks. Pants legs were scraping the ground. Shoes were the worst headache. Most of the Hawaiian guys wore about S's or 5-½'s, but because they had gone barefoot so much in the Islands, they took very wide shoes, double or triple E's! I'm sure the Quartermasters were glad to see us go to combat. All we had to do then was roll up our sleeves, stuff our pants in the tops of our boots and move up.


No 'Maggie's Drawers' for Tanaka


The thing I liked best about training was the rifle range. Even when I was detailed to pull targets I would find a way to slip in with the guys who were shooting them. I never got 'Maggie's Drawers'.


Ed: Maggie's what?

Tanaka: 'Maggie's Drawers'. That's the red flag they wave when a rooky can't even hit the target. Instead, I got to be an expert marksman. When they saw I could really shoot they made me a point man. I say, 'Great,' without knowing what a point man is.

Ed: Well, what is he?

Tanaka: He's the first scout, the guy who hits the enemy line first in an attack. There's a second scout about 25 yards behind the first. The attacking force is from 50 to 150 yards or so behind him. The first scout sends signals back and the second scout relays them on to the troops.

The enemy usually will let the point men through. They aren't much worried about these two jokers who are coming up on top. What they want to know is what's behind them. But you're always in danger. So when you hear something going on you hit the ground and start scrambling. They'll cut you off and wipe you out if they can. Of course, I didn't know all of this until I got in combat.

Ed: When did that happen?

100th Battalion Goes to War First


The Nisei 100th Infantry Battalion had moved from Camp McCoy to Camp Shelby early in 1943 for advanced training and maneuvers. When they finished maneuvers, they came back to Shelby and that's when they met the 442nd.


By August they were ready. They sailed late in the month and landed at Oran in North Africa September 2. They were attached to the famous 34th "Red Bull" Division, 15th Army Group.

Then on September 9 came the allied landings at Paestum and Salerno. On September 22 (D + 13), the 100th Infantry Battalion landed at Salerno Beach and started marching inland. Their first fire fight was at Montemarano on the 28th. This was followed by three crossings of the Rapido River. They were in action at Volturno and Cassino and at the final breakout from the Anzio Beachhead.

In these battles they met every objective. They overcame enemy mine fields, tanks and railway artillery. They made bayonet charges, fought off countless counter-attacks and held the high ground. Their guts and determination to win against odds led to such high casualties they earned the name of the "Purple Heart Battalion."

The 100th proved that the loyalty of Japanese American soldiers was beyond question. Their combat record and our training record convinced the War Department to send our 442nd RCT into action.

Slow Boat to Naples


We left our 1st Battalion at Camp Shelby to serve as a replacement unit and sailed from Hampton Roads, Virginia for Naples on May Day 1944.


Talk about a slow boat! It took our Liberty Ship 26 days in convoy to get there, during most of which many of us were seasick. I didn't miss a meal, but I came close. One thing I made sure of was to get a top bunk. I didn't want anybody going for broke with seasickness above me.

Naples was a beat up port. Before the Germans left they sank ships all over the harbor. Our Navy and the Army Engineers had cleaned it up as much as they could so we could get in close and land. We went about 10 miles out of the city to a staging area to get our land legs back, check our equipment and get our units sorted out. We were looking forward to combat; we didn't know what it was.

After about a week, we were loaded on landing craft, little "cigar boats" at Naples for a damned seasick passage to Anzio. From there, we started our march up to Rome. The way had been cleared by the 100th Infantry Battalion and other elements of the 34th "Red Bull" Division. We went past Rome to the old seaport of Civitavecchio. There we caught up with the 100th Bn which became the 1st Battalion of the 442nd. We trained together until June 21.

"Go for Broke" Draws First Blood at Suvereto


The 442nd went into action June 28, 1944 near Suvereto north of Civitavecchio. I'll never forget it. We were in a thicket area moving along, in a half crouch when all of a sudden there was a bunch of harness flying over our heads. These were real bullets coming at us and we could see twigs snapping off 6 inches above our noses.


So boom, we hit the ground and started digging almost with our fingernails to get under the stones. Then we started squirming on our stomachs like they taught us in training and we could really squirm. Never mind how hard it is or how sweaty. You don't even notice that. But still you've got your hand ready on your rifle, and you're trying your damndest to see where the fire is coming from so you can shoot back. If you can't find out, you've got to get the hell out of there because there is one thing you are sure of, the enemy knows where you are.

We did spot the Jerrys and K Company moved ahead with the rest of the 3rd Bn. Once we got in the fight my mind sort of blocked out what could happen and things like that. You just almost automatically go on and charge and look for the enemy and keep plowing ahead. A thousand and one things run through your mind: Did you bring enough ammo? Did you overrun that spider hole machine gun nest? Is somebody behind that tree over there? You're watching traces of powder smoke in front of you, looking for a gun barrel that might shine. You're keeping an eye out for the nearest protection, tree or stump or foliage - anything you can jump for if the firing gets really hot.

You're caught up in a terrible excitement that overrides some of your fears. You keep moving and you can really move. You're almost a robot, I guess, hunting down the enemy.

Ed: When you were Company point man you must have felt pretty lonesome out there ahead of the rest.

Tanaka: No, because I never felt I was alone.

Buddy System Really Works


Sometimes you get pinned down and you think: 'Almighty God, I'll never get out of this.' But you do somehow and your buddies help you.


One of the greatest things the Buddha Heads, the Hawaiian guys, taught me in training was the Buddy System. They lived it. The guys on either side of you are your buddies. In fact, your whole outfit are your buddies. You make it, or you don't - together. It's always together. If you get in trouble, you know your buddies are not going to leave you hung in a tight spot. The rifleman on your right or left or your bazooka or mortar man, everybody, is going to pitch in to get you out of it. You are never alone. And you know that. It's a tremendous feeling.

Ed: How did you do your first day in battle?

Tanaka: We didn't do badly. By the end of the day we had the enemy trapped. Our 3rd Battalion along with the 2nd, stormed Suvereto behind a walking wall of mortar fire. Finally, the Jerrys broke and retreated into the waiting machine guns of the 100th Bn. It had outflanked them and blocked their escape. Altogether 248 enemy were put out of action.

Ed: How did you feel about that?

Tanaka: Of course, we were proud of the fight we put up, but after the action's over is when you start shaking. You wonder what happened to some of the guys you saw before hand. You hear the bullets whizzing by. And then it hits you like a ton of bricks - My God, a guy could get killed out there! You think about it then and when you go up again.

We Never Called Anyone a Coward


As you keep going up, you begin to wonder how long you'll take it. Some people have a low breaking point and crack up early. Others go on and on. We never called anyone a coward. Everybody can be a coward at one point or another.


Ed: What kind of men would last the longest?

Tanaka: I can't answer that. All I know is, we had some loud mouth, vociferous guys on the boat coming over, but when they hit the line they sort of fell apart. Oh, they fought all right. You'd see them standing off pecking away with their carbines, but they didn't fight up to their mouths.

Then you'd see some little guy, maybe 4-ft-10, carrying a pack as big as he was, out there fighting like hell and cool as a cucumber, shooting at anything that moved, throwing grenades, cutting down every Jerry he could and scaring the pants off the rest of them.

I would have to say the quieter guys who always seemed to keep their heads were the best soldiers.

Ed: Where did you go from Suvereto?

Up the Italian Boot 50 Miles in 3 Months


Tanaka: It seemed like we as part of the 34th 'Red Bull' Division fought for every foot of the miles from Suvereto to Leghorn, and beyond. We drove the Germans out of Castagneto, Cecina River, Orciano and occupied Leghorn. By that time we were really bushed and our "Go for Broke" attacks had cost a lot of men. We needed rest and replacements. We moved to a division rest area near Vada July 24, 1944.


Our 442nd went back into action in mid-August, our 2nd and 3rd Battalions going into the line along the Arno River west of Florence. Here September 5th the Arno front exploded and the drive to break Marshal Kesselring's Gothic Line across Italy began. We crossed the Arno and moved north. Then we were pulled out and sent back to Naples to embark for France. That was early in October.

Believe It or Not, "40 and 8's"


I thought all the French "40 and 8" box cars had been given to the movies after the first World War. But No! There they were at the staging area outside Marseille. We bounced, jiggled and bumped in them in a steady drizzle all the way up the Rhone Valley to Epinal, in the Vosges Mountains and joined the Seventh Army pushing toward Strasbourg. We were attached to the 36th Division in the bloody battle for Bruyères, Belmont, Biffontaine and the mountains that towered around them.


It was a hell of a fight ... yard by yard, room by room, block by block, to take Bruyères. And then the mountains! As we climbed them we were getting massacred by the German tree bursts.

Ed: What do you mean - tree bursts?

Tanaka: The Germans were firing shells into the tall pines that exploded on contact and scattered shrapnel in every direction. There was no way to escape. I have seen as many as 20 men taken out by a single burst. I'll admit, we were giving it back. Our artillery was firing tree bursts too. But still we were getting slaughtered. After four days of heavy fighting, we were relieved for a rest. And that lasted just three days.

We Were Sent to Rescue the "Lost Battalion"


Ed: That was the 442nd biggest battle, wasn't it?


Tanaka: It was the toughest fight I have ever been in. The 141st Infantry an all Texas outfit, was pushing down the long, heavily wooded ridge that runs from Biffontaine to La Houssiere (see map). The 1st Battalion over-extended itself and got cut off. It fought like hell, but couldn't break through the strong enemy force surrounding it. The other Battalions of the 141st couldn't break through either.

The "Lost Battalion" had been out there about 9 miles into enemy land for a week. Division artillery had fired in chocolate bars as emergency rations, but water and medical supplies were running out. Despite the weather, planes had somehow managed to drop in some food and ammo. But much of the ammo had been used to hold back the enemy hell bent on massacre. The "Lost Battalion" had to be rescued. The 442nd was ordered to reach it.

First Day


It was pitch dark when we took off the morning of October 27th - so dark each man had to hold on to the pack of the man in front of him. It was slow going. The terrain was a nightmare, heavily wooded and carpeted with dense underbrush. We were fighting for every tree, every bush. All of a sudden the Jerrys cut into our 3rd Battallion and opened us up to a counter-attack supported by a Mark IV tank. It took three hours of all-out fighting to beat that back.


All day long the enemy was throwing everything he had at us. Infantry, artillery, armor, mortars, machine guns, hand grenades, everything.

Second Day


From the first light we fought to smash a hole through the enemy's entrenched lines. Our 100th Battalion saw the Jerrys pull back through a draw at one point. Two companies plunged after them, into a death trap. Hundreds of rounds of artillery and mortar fire ripped them to pieces.


Our 3rd Batallion went after the first of a series of heavily protected road blocks. Staff Sergeant Gordon Yamashiro, K Company, crept up on the block and attacked the machine gun nest with his rifle. He killed all three crewmen. A second machine gun opened up on him and he killed its crew. Then a sniper got him. But he had opened the only hole in the enemy's line. His men fixed bayonets, charged, and killed every German who didn't surrender.

We ground out less than a mile all day and our casualties soared. The Germans were above us and dug in. We were up and pushing forward. I was acting 1st Sergeant of K Company and my pencil was worn down to a stub trying to keep track of the guys we lost.

Third Day


We asked for replacements but none could get up. Many of our guys had trench foot from the cold and wet but we couldn't send them back. Anybody who could walk and pull a trigger had to fight. And that's when a real tragedy happened.


For the first time in our army career, K Company had a really great cook. We loved him and there he was that dark morning with a rifle in his hands. He had been ordered into the line. It blew our minds. What the hell was he doing there?

About that time we ran into a mine field. The 100th Battalion, which was protecting our flanks, started fighting its way around the edge of it. Our 3rd Batallion had to go through it. Sure enough, our cook got killed. He should have been back baking apple pies or whatever. K Company was just very sad!

We didn't have much time to mourn, though. Halfway through the mines the Germans cut loose on us with every gun they had. We were being cut to pieces.

Ed: So for once you had to retreat?

Tanaka: Oh, no. There was no thought of that. We just kept plowing. A little group here, some more over there, my K company, everybody, a few at a time got up and started for the Jerrys' positions. Artillery, mortars and machine guns cut us down as we ran. But not all of us. We advanced from tree to tree, bush to bush. We were ducking and dodging, firing from the hip. Then socking in with hand grenades. We were moving up a narrow corridor not more than 500 yards wide. The 100th Battalion was moving up on either side of us so we knew our flanks were safe. Our 3rd Battalion fought its way right up under the enemy position. While this was going on, word came to the Battalion Command Post that the situation of the 'Lost Battalion' was desperate. We had to get to it right now!

Our Battalion Commander, Lieutenant Colonel Alfred Pursall - one of the very best leaders in combat - tried to turn the Jerry's right flank but the bluff at that point was so steep we couldn't maneuver and got pushed back. A platoon of our tanks came up. With their 75's supporting us we gained a little ground, but then were pinned down by rifle and machine gun fire. We couldn't advance or pull back.

There was only one chance and Colonel Pursall took it. The order came down the line, 'Fix bayonets!' I and K Company's led the assault. Guys fell, others took their places. The dead lay where they'd fallen. Over enemy gun barrels, inside enemy dugouts, everywhere. By God, we would not be stopped! What was left of the Germans finally threw down their arms and ran. This time there was no counterattack, but the artillery kept pouring in.

And Those Crazy Medics Were Running Out in It!


I can never say enough for the Medics. No matter if fire was pouring in from all directions and mortar rounds were dropping all over the place, when a guy was hit those crazy Medics would run out and drag him out of there. They were hit and killed on the way to the 'Lost Battalion', too, but they never failed to bring the wounded in. They were tremendous!


K Company down to 17, I Company to 8


By nightfall we were only 700 meters from the 'Lost Battalion'. It was snowing and very cold. As acting First Sergeant I was commanding K Company. A sergeant from I Company came up and he was commanding that outfit. All our officers had been killed.


I sat down on my helmet. He sat on what he thought was a log. It turned out to be a frozen Jerry. This was terrible, but it was war and we were so tired we couldn't see straight.

Out of 188 riflemen K Company started with, there were just 17 left. The I Company Sergeant could count only 8. All we could do was keep the few men we had in the line for the next assault. We ate our K-Rations and rolled into the slit trench the frozen Jerry had dug for himself.

Ed: You mean you could sleep with the enemy shooting everything he had at you?

Tanaka: When you tired enough, you can. You sort of half sleep - sleep with one eye open, I guess. You never sleep soundly. you're always ready for action, but you do get some rest.

Fourth Day, October 30 - thru to the "Lost Battalion"


That morning our artillery came on with all guns firing. The back of the German resistance was broken, but their artillery kept pouring in. Early in the afternoon our 3rd Battalion and the 100th Infantry moving as nearly abreast as we could, broke through to the 'Lost Battalion'!


I knew when we had gotten to the top of the ridge, because for the first time in four days I wasn't walking uphill. I guess I was the lead man from K Company. All of a sudden here comes a guy up out of the ground. I was about to shoot him before I realized he was a GI. I looked at him and he looked at me. I lowered my rifle and he lowered his. It was quiet. Then I said, 'Hi,' I guess, and offered him something, a cigarette or maybe my K-Ration. I think it was my K-Ration.

'Hey, the 442nd Guys are Here!' ...


Somebody yelled out, and the whole place erupted. Guys started coming out of the ground like you wouldn't believe. We didn't know there were that many GIs out there. We expected to find nothing but Germans and German gunfire. And we find our own guys still alive and hanging in there. It took a little while for it all to sink in and to know that all the terror and the fighting and the waiting were over. We were together and we broke loose!


The 'Lost Battalion' moved out quickly that afternoon. They were really beat. They were without. food and ammo. They told us where all the artillery was coming from and where the danger spots were. Then they moved off down our trail protected by the 100th Bn. But they never forgot us. After the war, at their urging, Governor John Connally of Texas issued a proclamation making all of us in the 442nd "honorary Texans".

Ed: Weren't you in the same precarious spot the 'Lost Battalion' was?

Tanaka: Same spot, but it was very different. We weren't cut off. We had a secure supply line and plenty of ammo. And we had the enemy licked. Just to make sure we kept up a nice steady charge of machine gun and rifle fire.

That same day a Captain came up to take charge of K Company. I briefed him and warned him about small arms fire out towards the end of the ridge. But he wanted to see for himself. So he went out and got killed. An I was running the Company again.

The next day or the day after - shrapnel from a German tree burst plowed up my back and I was out of action for about a month. That ended my assignment to K Company. When I returned to duty I was a member of Colonel Alfred Pursall's Executive Command Group, 3rd Battalion

Ed: After the rescue of the 'Lost Battalion', what happened?

Tanaka: The 442nd had lost so many men we had to be pulled out for rest, re-equipment and massive replacement.

'Where Are the Rest of the Men?'


After we were relieved, General Dahlquist, Commander of the 36th Division, called out the whole 442nd to congratulate us personally. When he saw us, he turned to our Commanding Officer, Colonel Pence and asked: 'Where are the rest of the men?' With tears in his eyes, Colonel Pence replied: 'You're looking at the entire Regiment. That's all that's left. We were five or six hundred out of an original fighting force of more than 4,000 men.


We were sent back down the Rhone Valley to an area near Nice. We were to hold a sector in the Alps Maritime. We called this the 'Champagne Campaign'.

For better than four months we were on the French Riviera. Don't think we were sunning on the beaches - it was too cold and there were too many mines buried in the sand. But when we weren't patrolling the Alps Maritime to keep the German 34th Division off balance, we were able to get away from the war a little where there were girls, lights, music. Man, did we ever appreciate that! We felt like human beings again.

Unhinging the Gothic Line


On General Mark Clark's personal request to General Eisenhower, we returned to Italy in March 1945 and rejoined the 15th Army Group.


The 442nd was to be in the last big push of the war in Italy, the breaching of the Gothic Line. This was a chain of interlocking defenses stretching across jagged, barren mountains from the west coast to the east coast. For five months it had defied every allied assault. The enemy's guns seemed to be in complete control

Our job was to make a diversionary attack on the west anchor of the line near Carrara before the full force of the Fifth Army was thrown against Bologna. A frontal attack with the German guns looking down our throats would have been suicide so Colonel Virgil R. Miller, our Regimental Commander at the time, decided to take a long gamble.

After dark April 4, we started climbing silently up 3000 foot Mt. Folgorita. The going was almost straight up and we were wearing full combat gear. Men slipped and fell to their deaths, but no one turned back. The rest of us climbed on, much of the time on our hands and knees. It took us about eight hours but we made it.

Just as it was getting light April 5, and the Germans started looking down the mountain, they found us right on their flank attacking with fixed bayonets! In 32 fantastic minutes, the 100th Battalion took two key mountain top outposts and broke through. Our attack was supported by three battalions of artillery and a hell of an effective air strike. What started out as a diversionary attack by the 100th Battalion and the 442nd turned into an enemy route that unhinged the western end of the Gothic Line!

By the end of April the 442nd had breached almost every position the enemy held in the western sector. We were the first to reach Turin. By that time the German units were surrendering in a flood tide.

On May 2, 1945, an artillery spotter plane flew over us and dropped bundles of 'Stars and Stripes'. Three words on the front page made it all worth what it cost - "PEACE AT LAST!"

Ed: And that is the fighting story of Sgt. Chet Tanaka and a brief description of the Nisei 442nd Regimental Combat Team.

Tanaka: Not quite. There were some adopted Nisei in our team. They were the Caucasian officers who volunteered to serve with us and lead us.

Ed: How did they work out with the rest of you Nisei?

Tanaka: Beautifully! There may have been a few misunderstandings when we started training, but there were very few even then. When we hit combat there were none. We were one fighting team. To us, our Caucasian officers were Nisei, like us. To them, we were Americans, the same as they were. As far as I am concerned, they will always be adopted Nisei.

I also want to mention again, the Medics. No group suffered more casualties and earned more gratitude than they did. They always brought the wounded back - no matter what.

I haven't said much about them, but we owed an awful lot to the 522nd Field Artillery Battalion and our Regimental Cannon Company. They fired over 200,000 rounds supporting us. They blasted paths for us through the enemy's positions time after time.

And our 232nd Combat Engineers! They never stopped. They kept our supply lines open under fire. They neutralized mines, built roads and bridges where there never had been any before. And when we ran out of reserves, they climbed down off their bulldozers, grabbed their rifles and fought shoulder to shoulder with us in the line.

I'll never be able to say enough for all the people who supported us.

And now the last of too many words. In telling this story I hope I haven't blown the contribution of the 442nd out of proportion. After all, we were a very small unit in a very great American fighting force. We were proud to be a part of it - and "Go for Broke".

What of Chet Tanaka Since?


Ed: because he had learned enough German in high school and college to interrogate prisoners, Tanaka served briefly as Acting Provost Marshal at Gheddi Airport, Italy, where 5000 surrendered Germans were massed.


Then he came home - one of the small handful of survivors of the original 442nd Regimental Combat Team that had landed at Naples, May 28, 1944!

Artist, book and magazine designer, Tanaka launched his career in New York, from 1946 sto 1954 he was Printing Production Manager for Consumer Reports. For the next two years, Managing Editor of the lntercollegian Publications for the National Boards of Y.M.C.A. and Y.W.C.A. Then for 5 years, art director for IBM's World Trade Corporation. Next he moved to Princeton, New Jersey and served as art director for Educational Testing Services (ETS), an arm of the College Board Testing System. He came west in 1973 as Publication Director for West Labs.

In 1975, he established Ed Art Studios at 1855 Folsom Street, San Francisco, where he is up to his ears in printing production and designing, principally in the educational field.

Tanaka and his wife, Missi, live in Oakland. They have three children: John, the oldest, is a Marine Biologist now living in Hawaii. Next is Susan who is majoring in creative writing at San Francisco State University. The youngest, David, a graduate of John Hopkins University, is presently resident in Pediatrics at Colorado Medical Center in Denver.

And today, Chet Tanaka, "Go for Broke" soldier, is a member of the Society of Friends.





Impact Achievement Awards to Museum Staff

This was written by John Motheral, editor of the Fort Point Salvo, the newsletter of the Fort Point and Army Museum Association. Volume 5, number 3, June, 1981.


Eric Saul, Director/Curator […] received a cash Impact Achievement Award from the Department of the Army for [his] work in producing the "Go for Broke" Exhibit. Said Mr. Saul's award certificate in part: ". . . This highly significant accomplishment will increase awareness of military heritage, and Mr. Saul's superior leadership and dedicated interest in the exhibit reflect most creditably upon him, this Command and Federal Service."